Brent shares his passion for painting in pastel and oil with a number of workshops throughout the year. For those who are interested, below is a list of upcoming workshops. 

​
Brent does offer private plein air workshops in the St. Joseph/Kansas City, MO area. If none of the available dates or locations work for you, consider coordinating a private workshop for him that may fit your schedule. 

For more information about private workshops,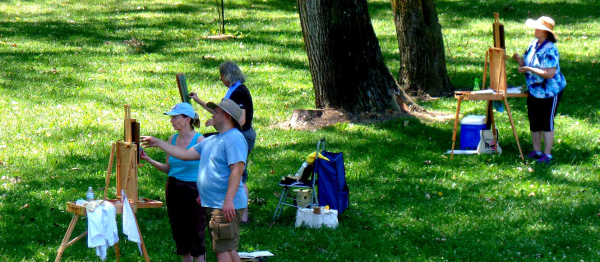 Seevers is most notable for his pastel work, and is an advocate for the medium in Northwest Missouri. As part of his contribution, he educates and encourages interest in pastels with various demos and workshops.


THE LANDSCAPE en PASTEL


Date:  April 10, 11, 12, 2018
Time:  9:30 am - 4:30 pm
Location:  Albrecht-Kemper Museum of Art 
                  2818 Frederick Ave., St. Joseph, MO

Skill Level: all skill levels
Medium: Pastel (not oil pastel)
Class Size: 5 min | 12 max
Tuition: $300

This 3-day workshop will cover materials, techniques, framing, values, composition, perspective and how to interpret a landscape in an impressionistic and tranquil manner from photo references. I will open each day with a lecture followed with a 2hr demo​. After lunch, attendees will be able to paint the remaining part of the day under my guidance while I go around to assist and answer any questions.

Lunch will be provided by the museum.

Supply list will be available after sign up. 
Attendees will need to bring their own photographic references.

Contact the museum at (816) 233-7003. 

Lodging is available. Drury Inn, Hampton Inn, Days Inn, American Best Value Inn, Stoney Creek Hotel, and Motel 6 are all right off I-29, and are an easy drive to and from the museum.  


THE ATMOSPHERIC LANDSCAPE en PASTEL

Date:  June 15 - 17, 2018
Time:  9:00 am - 4:00 pm
Location:   Cathy Kline Art Gallery
                   8701 NW River ark Dr.,Parkville, MO

Skill level:  intermediate and advanced
Medium:  Pastel (not oil pastel)
Class size:  10 max
Tuition:  $270

This workshop will have emphasis in creating atmospheric pastel paintings from photo references. What is taught can also be applied to plein air work. Attendees will learn advanced methods in creating tranquil impressionistic work utilizing wet underpaintings, and build up layers in detailed work. Composition, values, and aerial perspective will be stressed. I will open each day with a demonstration and lecture. After lunch, attendees will be able to work the remaining part of the day as I offer guidance and answer questions. 

Artists must bring their own supplies and photo references.
Supply list will be emailed after signing up.

Contact Cathy Kline at info@cathyklineartgallery.com.

​

​

This was great after years of not doing any of this. Lots to learn! Thanks Brent!

Patricia B.

Kansas City, MO